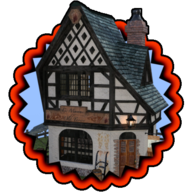 Two Word NPC
A Tool for generating (hopefully) interesting people in taverns
About
This is a generator derived from the contributions of the people on this G+ post by David Black.
Generator
You enter the tavern and see the following ne'er do wells...
Broken nun
Shrubbery spider
Gigantic spider
Dying strumpet
Disguised fetishist
Gigantic fetishist
Repo nun
Travelling noble
Sorcerer's bugbear
Hirsute acolyte
Future wombat
Instructions
Each time you hit the Generate button, a new set of combinations are generated, using the first and last words from the various contributions. You may also refresh the page, or click/tap the list itself.
On a computer or with a device with a stylus, hovering over the names gives credit to the person who posted the first and second parts.